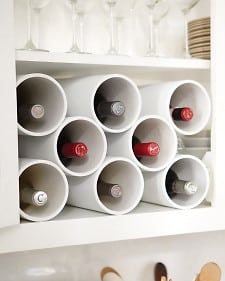 Published On: July 22, 2012
There's no need to spend a fortune on a wine storage rack for your home.Our experts at Hollywood Storage Center and Martha Stewart Living will show you how to make your own!
All you need for this simple yet lovely DIY storage project is a few easy-to-find items at the hardware store, and you'll have a new wine rack in no time at all.
Tools and Materials
1. Hacksaw (or have the hardware store cut the PVC for you)
2. 4-inch PVC pipe
3. Sandpaper
4. Acetone
5. Indoor/outdoor all-purpose spray primer
6. Spray paint
7. Industrial-strength self-adhesive Velcro strips
Overall plan:
Cut pipe to the length you want or have it done at the hardware store. Choose a location for the wine rack that has supports on both sides, such as a cabinet or shelf. Then use Velcro strips to stabilize your masterpiece.
Step 1: Using hacksaw, cut lengths of pipe to fit the depth of your cabinet or shelf.
Step 2: Sand the cut edges so they are smooth. Wipe the outside of the pipe with acetone to remove any oils, which would prevent the paint from sticking.
Step 3: Spray pipes with primer; when dry, spray them with the paint color you choose. Once dry, join pipes to one another and to the base of your cabinet or shelf using Velcro strips.
Voila! You are now ready to show off your very own wine storage rack!
But, if you have more than 8 bottles of wine, consider storing them at Hollywood Storage Center in a cost-effective, climate and humidity controlled wine storage cabinet. Proper wine storage is a must to protect your investment!
Post your easy DIY storage projects on our Hollywood Storage Facebook.