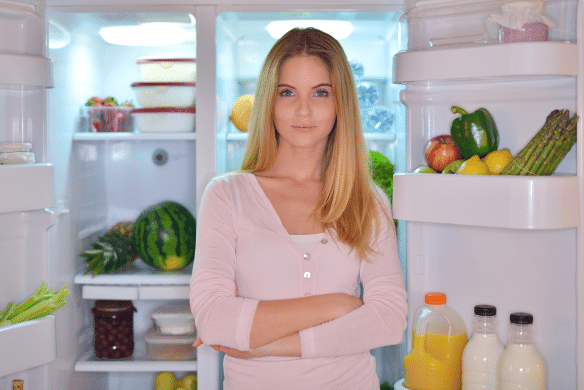 Freshen up your Fridge from Self Storage Thousand Oaks
Published On: January 6, 2022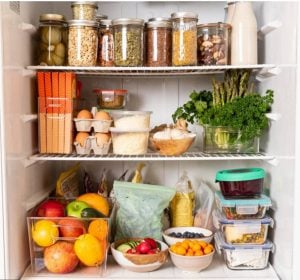 There's something deeply satisfying about opening the door of a picture-perfect fridge filled with nicely stacked and labeled containers. However, keeping a neat and orderly refrigerator can be challenging for busy families. That's why our self storage Thousand Oaks team is sharing simple organization tips to keep your fridge tidy and the food inside fresh.
The Basics
The first step in keeping your refrigerator organized is to have a dedicated place for essential items. Second, avoid stuffing your fridge full. While bulk-buying may seem like a smart money-saving option, packing too much on the shelves prevents the cold air from circulating and can lead to spoilage. Third, not all refrigerators are made equal. Depending on the age, older models such as side-by-side styles may not offer as many shelving options as high-tech newer ones or French door types do. These differences will change how you manage food zones.
Beverages
Temperature matters, especially for milk. You can prolong your milk's life by storing it toward the bottom of the fridge where the air is typically the coldest. Then, simply keep other beverages like juice, sports drinks, or drink boxes near the milk. Soda cans are one of the few items we've found that use less space when stored in a stackable can dispenser. Keep it on the top shelf to take advantage of stable cool air. Wine bottles and liquor can be laid gently on their sides. Use refrigerator mats to prevent bottles from rolling around.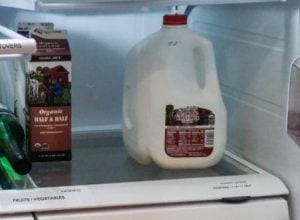 Eggs
If you're putting eggs in the refrigerator door, remember this zone's temperature varies the most with all that opening and closing. Like milk, you want to put eggs in a constantly cold area – like the bottom center.
Leave your eggs in their original carton of recycled cardboard rather than storing them in another bin. Cardboard egg boxes supply better protection than most solid foam or plastic containers. And did you know that those cartons prevent the eggs from absorbing strong odors and flavors from other foods?
Additionally, eggs will last for about three weeks from the Sell By date if stored properly. When we buy fresh eggs, we like to write the BEST BY date (3 weeks from Sell By) on the carton before we put it in the fridge.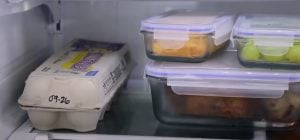 Meat & Cheese
If you have a newer fridge, it likely has a special drawer just for deli items. We like to take them out of their original packaging and put them into clear bags labeled with a date and the product's name. It's a lot easier to grab something when you can see it, know what it is, and how long it's good for.
Raw meat should always be separated from other food and placed on a lower shelf in a bowl or drawer to capture liquids.
Don't have a dedicated drawer? No problem. Just place the items in a lower area of the fridge to maintain freshness. If your fridge is older and has enough depth between shelves, try adding these shallow storage drawers which are great options to increase space.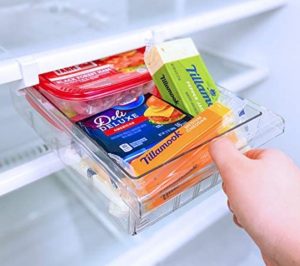 Condiments
These are mostly responsible for a disorganized fridge. Consider grouping them by category. For example, items like ketchup, mustard, and barbeque sauce can remain together while syrup, honey, and jam are in another group. Then, store these items on the refrigerator door shelves. If you save take-out packets of sauces, consider reusing the small Yoplait Oui yogurt glass pots to hold them. Also, consider transferring those half-empty salad dressing and sauce bottles into smaller glass containers. Reusing glass bottles or mason jars is a great way to store liquids, and significantly increase space.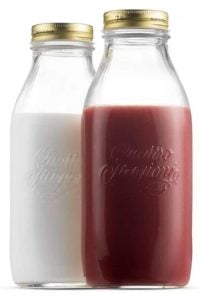 Fruit & Vegetables
When produce is clean and ready to go, it's much easier to consume and less likely to go bad. Always clean produce with a good rinse and dry before storing. We love green bags to extend shelf life, but paper-towel-lined glass containers work great as well. Just make sure to keep all the fresh produce away from meat and seafood. This alone helps your harvest last longer. Finally, keep in mind that not every fruit, vegetable, or herb belongs in the fridge. If you're not sure, a quick question to your grocer or Google should help.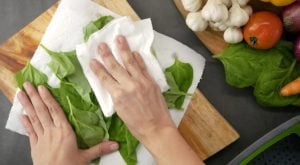 Leftovers
Now that condiments have moved to the door shelves, and we're using the middle and lower areas of the fridge for dairy and meat, let's talk top shelf. Because of its stable temperature, this part of the fridge is ideal for leftovers, prepared meals, and drinks. We love reusable silicon bags. Not only are they clear so you'll always know what's inside, but they're eco-friendly, and many can stand up!
We hope these simple organization tips help you maximize refrigerator space. Doing so will help keep the inside tidier and the food fresher longer. And, if you're also planning to organize your home or garage this year and need extra room, our friendly self storage Thousand Oaks team is ready to help! We're available every day of the week from 8:30 am to 6 pm to offer you the Lowest Price – Guaranteed!