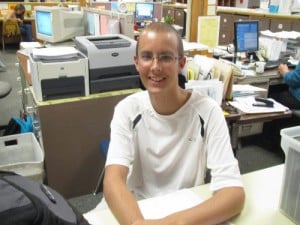 Hollywood Storage Center of Newbury Park Supports Fight to Cure Osteosarcoma
Published On: August 10, 2012
Most local Conejo Valley residents are familiar with the story of Andreas
Knickman, the Newbury Park High School student who has been fighting osteosarcoma for the past three years. Andreas was 13 when he underwent surgeries at Children's Hospital Los Angeles to remove malignant tumors in his left lung and left leg caused by osteosarcoma, a type of bone cancer that strikes about 400 American children and young adults each year.
He went through 18 rounds of chemotherapy for the next nine months. When he wasn't living at the hospital, he traveled there several times a week to receive infusions of a trial drug and blood transfusions. Andreas' last therapy regimen—nine months of chemo and two months of radiation—ended in June 2011. But, he is now fighting cancer once again.
Through Andreas' battle, many families in Newbury Park, Thousand Oaks, and the Conejo Valley have learned that funding for childhood cancers, including osteocarcoma, is extremely limited. We have also come to understand that it is a very difficult disease, often involving years of aggressive chemotherapy and surgery.
That's why Hollywood Storage Center of Newbury Park is supporting The Liddy Shriver Sarcoma Initiative. This month only, a generous donor has offered to match all contributions (up to $25,000) made on this page!
Any amount you donate by the end of August 2012 will be doubled, so please help fund cancer research that will lead to newer and better treatments for young people like Andreas.
P.S. Please share this post with friends! Thank you.