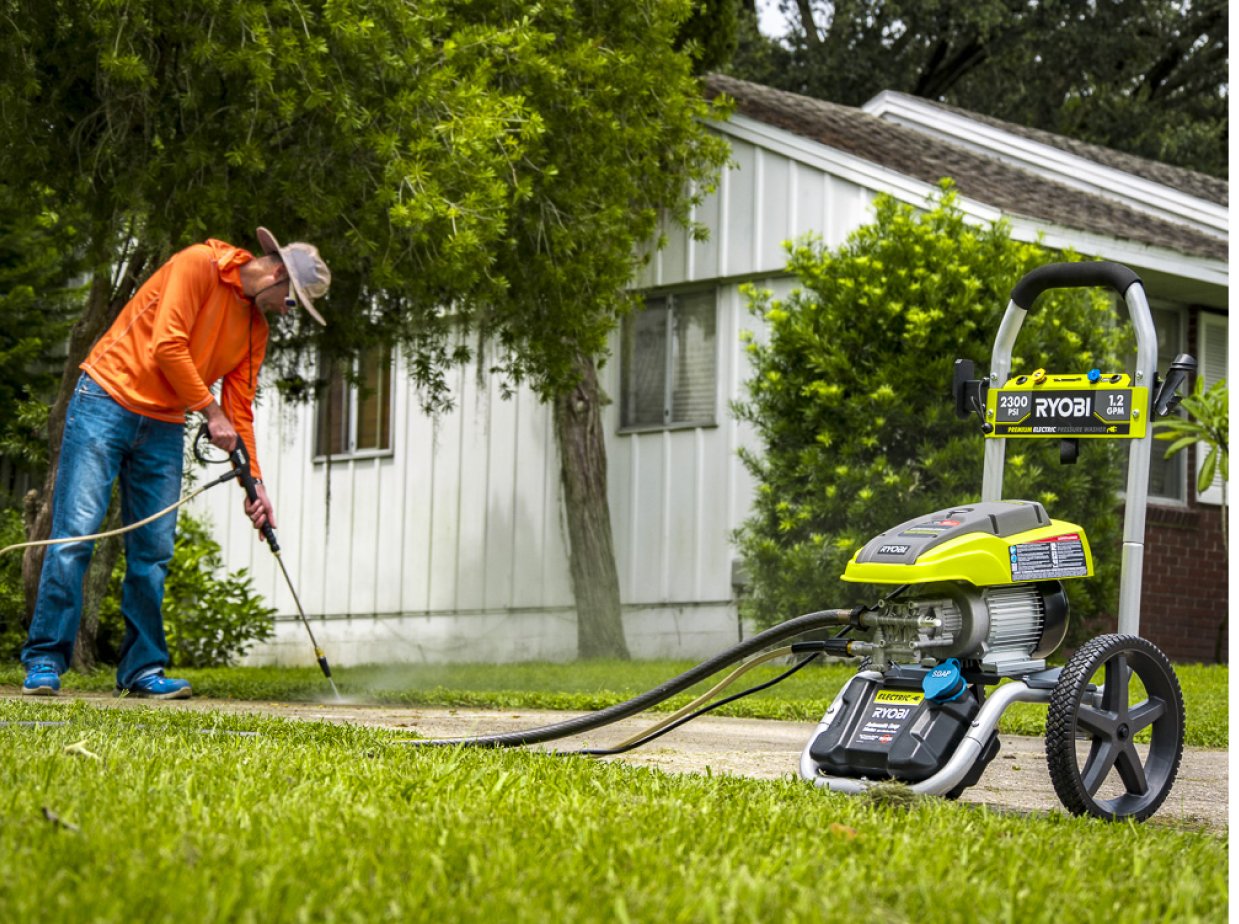 "Upcycled" & Other Crafts for the Garden
Published On: June 11, 2014
Here's a guest post from Samantha, a Storage Consultant here at Hollywood Storage Center of Thousand Oaks. She's one of the friendly folks you might meet when you look into one of our low-cost self-storage units. Samantha is our resident "crafter," always on the search for fun, useful crafts and decorating ideas to pass along to our customers and their families. What did she find this time? Read on and see…
Hi guys & gals! Samantha here, and I'm super excited to share my latest patio garden crafting project with you. It's perfect for summer! Which got me to thinking … why not share some other fun and simple DIY summer projects as well? So, here they are: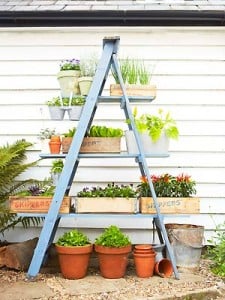 I took an old 5-foot ladder I had lying around and, instead of throwing it away, "upcycled" it into a really cool tiered planter. You can get as creative as you want — but all I did was paint the ladder a nice light blue color… then I bought a couple terra cotta pots and some wooden garden boxes (you can sometimes find them at places like HomeGoods), some plants and perrenials, and a bag of planting dirt. You can put some pieces of plywood across the rungs to help hold up the pots, if need be. Voila! Instant planter! And it fits right in my small patio area.
And here's a super easy way to age those terra cotta pots or planters you just bought: Use yogurt! Yes, you read that right … Buy some natural yogurt (y'know, the kind without too much sugar or many chemicals) and a stiff brush. Rub the yogurt evenly over the surface and onto the rim of the pot before planting; when dry, empty pots absorb the yogurt better than ones full of damp dirt. In no time, those pots will attract cool algae, lichens, and mosses that make them look aged and "vintage."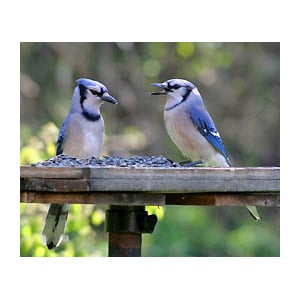 Finally… If you have a bigger garden and want a slightly more intricate project here's a cool idea for a DIY bird table. What's a bird table, you ask? Well, it's a small table filled with food (like crushed unsalted peanuts, cheese, raisins, or sunflower seeds) that's a great way to encourage birds to come into your garden. You'll need a piece of plywood (or other thin wood) measuring about 12″ by 16″. Next, nail four pieces of 3/4″ square wooded batons around the top of your "table," making sure to leave a gap at each corner for water drainage. If you can attach your table to a fence, make sure to screw two blocks of wood to the bottom of the board with a big enough gap to fit a fence post between. Finally, screw through the blocks and into a 6-foot post to secure the table to its support. You'll have beautiful birdies to watch in no time!
Don't forget: You can always store crafting items — especially the ones you use at certain times of the year, like Christmas or Halloween — right here at Hollywood Storage Center! So next time you need Newbury Park self storage, remember that we beat any price in the Conejo Valley, and we're here to lend a helping hand … and quite possibly, some fun craft ideas! See you soon!
Thanks, Samantha! What great gardening ideas… perfect to get you outside in the gorgeous Thousand Oaks summer weather! Readers: What's your best gardening tip? Post about it in the comments below.