Earth Day Tip: Enjoy Nature at These Top 5 Ventura County Spots
Published On: April 7, 2016
Here at Hollywood Storage Center of Thousand Oaks, we love Earth Day, and we're eagerly anticipating the many events around town this month to bolster Earth appreciation.
Lucky for us, our nature expert (and Storage Consultant) Bobby put together a list of some of his favorite outdoor places around Ventura County. Why not take 5 and get outside this month? It's a great way to celebrate Earth Day!
Sometimes it's nice to get outside and just clear your head, right? Take a mesmerizing ½-mile walk down a winding path in this great family-friendly park! The labyrinth helps focus your thoughts and reduces stress with a series of turns and curves moving toward its center. You'll find it a fun and soothing way to appreciate the outdoors.
If you want to bring your pooch along to enjoy nature, this is the place. It's got a dog park for both big and small breeds plus a ton of open space. It also has picnic tables, jungle gyms, and fields/courts for sports like baseball, volleyball, and soccer. Bonus: The park is full of beautiful and fragrant eucalyptus trees.
For more intense adventure, you can take a boat from Oxnard or a plane from Camarillo and enjoy one of the coolest nature preserves in California, which was just named #6 of the top 10 "Best Places to See Aquatic Life" (USA Today). You'll find back- country camping, kayaking, fishing, whale watching, and hiking. And, this year is the 100th birthday of our National Parks Service, so make sure to thank the ranger when you're out there!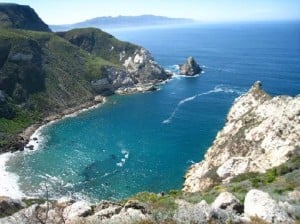 If you'd rather stick close to home but want to "take time to smell the roses," plan a picnic at Gardens of the World. It's located right off Thousand Oaks Boulevard across from The Lakes. These gardens contain flowers, trees, arches, and fountains that reflect the culture of different parts of the world. Take in the different gardens at your own pace, or join a free 45-minute docent-led tour.
Marina Park – Ventura
For a fun day at a low-key beach, this is definitely the place to go. There's a big open grass area for playing Frisbee, a super cool concrete pirate ship climber, and, if that wasn't fun enough, this park has a zip line! Up the road, where San Buenaventura State Beach begins, you can also fish and take sailing lessons. I love this place for getting together with friends and family.
There's so much to see and do right outside our front door!
And remember, when you want a great place to stow all that outdoor sports equipment and picnic gear, store it at Hollywood Storage Center in one of our self-storage units!
---
This was a guest post from Bobby, a Storage Consultant who loves all kinds of hobbies. You might've seen him the last time you stopped by the storage center. Thanks for helping us get ready for Earth Day, Bobby!
Readers: Do you have a favorite outdoor activity here in Ventura County? Share it below!