Spring Clean Like a Pro: Thousand Oaks Storage Secrets!
Published On: April 7, 2021
Spring has sprung and that means it's time to think about our Spring Cleaning plans! At Hollywood Storage Center, our Thousand Oaks storage team loves getting things organized and clean. This year, we put together a seven-day Spring Cleaning challenge. Are you up for it?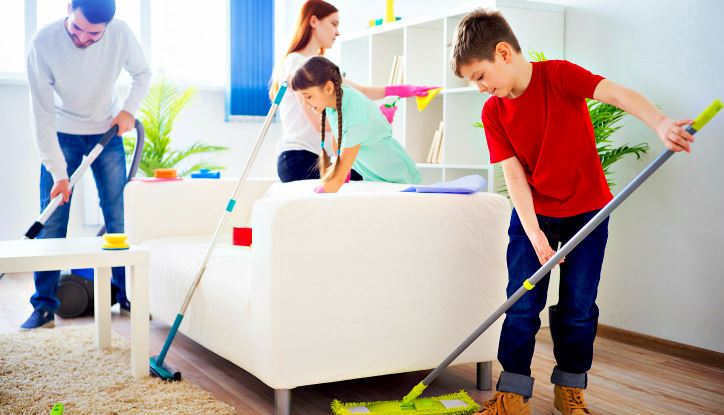 Day 1 – The Kitchen
Clear off your countertops.
Wash all dishes.
Dust off the top of the fridge.
Clean out small appliances.
Clean anything that will stay on your countertop.
Wipe down the exterior of your stove and other large appliances.
Wipe down the countertops.
Deep clean your sink.
Clear out the fridge.
Empty and then sanitize your garbage can.
Sweep, vacuum, and mop your floors.
Organize cabinets, setting aside anything you don't use and can be stored.
Day 2 – The Bathrooms
Remove all items from countertops and floors.
Dust and/or sweep all flat areas and cabinet doors.
Apply cleaner to showers and bathtubs.
Wipe down towel racks, shelves, baseboards, doors, blinds, and windowsills.
Scrub showers and bathtubs.
Clean the vanity area.
Clean the toilet.
Mop the floor.
Day 3 – The Bedrooms
Strip your bed, wash your sheets and flip your mattress (if needed).
Clear surface clutter and wipe clean.
Dust curtains and light fixtures.
Wipe down windows and mirrors.
Vacuum or sweep.
Clean out your closet, setting items aside that you don't wear often and can be stored.
Remake bed.
Day 4 – Living Areas
Clear all surfaces including shelves and tabletops.
Dust surfaces and all art/photographs on the walls – use a wet cloth if needed.
Take down drapes, curtains and blinds to wash or have cleaned.
Dust and clean out couches and chairs with vacuum cleaner attachments.
Dust and clean all accent lamps and knickknacks.
Dust all electronics.
Clean the carpet and rugs.
Day 5 – Household Maintenance
Empty all trash.
Dust all ceiling fans.
Wipe down all baseboards.
Do all laundry.
Dust corners of rooms and ceiling light fixtures.
Day 6 – Household Maintenance
Replace all air filters.
Test smoke alarms, carbon monoxide detectors, and fire extinguishers.
Inspect all electrical cords for wear or fraying.
Day 7 – A Place for Everything
Now it's time to move items out of your home that can be stored in a safe and convenient storage unit. If you have space at Hollywood Storage Center, come on over any day of the week. Our access hours are 6:30 am to 8:30 pm, 365 days a year. If you need a storage unit at the Lowest Price-Guaranteed, give us a call, or visit us, and we'll be happy to find you the right size to keep all the Things You Love!
Taking the time to get your home really clean every Spring is a big job, but this plan will help break it down into manageable bites! We encourage you to take the challenge; you'll be happy you did!