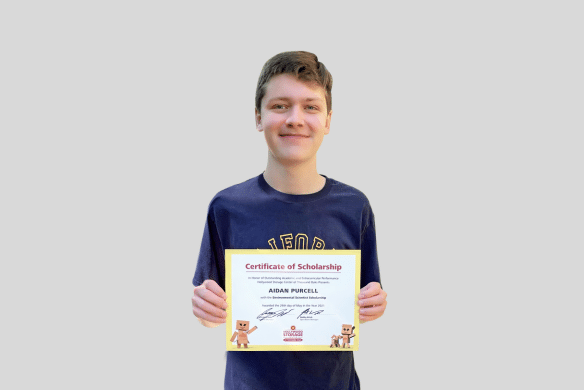 Meet the 2021 Scholarship Winners – Hollywood Storage Thousand Oaks
Published On: August 15, 2021
It's a very exciting time of year as we prepare to send our children back to see old friends, to new schools, or to travel away to college. Here at Hollywood Storage in Thousand Oaks, we're proud to celebrate this special transition by announcing the recipients of our 6th annual community scholarships.
Each year, we award a scholarship to a graduating senior from Newbury Park High School and Thousand Oaks High School.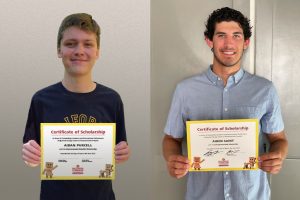 Environmental Scientist Scholarship – NPHS
The recipient of the Hollywood Storage Environmental Scientist Scholarship is Aidan Purcell. This $2,000 award, which is funded with the proceeds from our Free Electronics Recycling program, goes to a student who is pursuing a career in Environmental Science and has also shown a commitment to an environmental project or cause. Aidan's passion for animals and life on this planet is what drives him. He's been volunteering as a counselor in training (CIT) for the day camp at the Moorpark College Zoo for five years. He has focused his studies on dinosaurs, hoping to lead the forefront of biological and paleontological research. He will be majoring in Integrative Biology at UC Berkeley this fall.
Entrepreneur Scholarship – TOHS
The Hollywood Storage Center Entrepreneurship Scholarship of $2,500 was awarded to Aiden Saint. Aiden completed both the Business Majors Program at TOHS and a Worldwide Technology Internship. He also held leadership roles in clubs (VP of Model U.N.), athletics (basketball and volleyball), and ASB, as well as volunteering with Casa Pacifica and Coastal Cleanup. Aiden will be attending Baylor University, majoring in business management/marketing, with the eventual goal of starting his own business in the Conejo Valley. He said he has come to realize the great value that small businesses bring to the table, and he hopes to build a company that will help support our local economy.
As a locally owned and operated business, we are pleased to be able to support these fine young men as they head into their college careers. And of course, we're always proud to serve our entire community with the Lowest Price – Guaranteed on self storage units in Thousand Oaks.
To learn more information about the annual scholarships given by Hollywood Storage Center in Newbury Park, email info@hollywoodstoragecenter.com.