Your First Apartment – Tips from Your Storage Unit Experts
Published On: July 24, 2019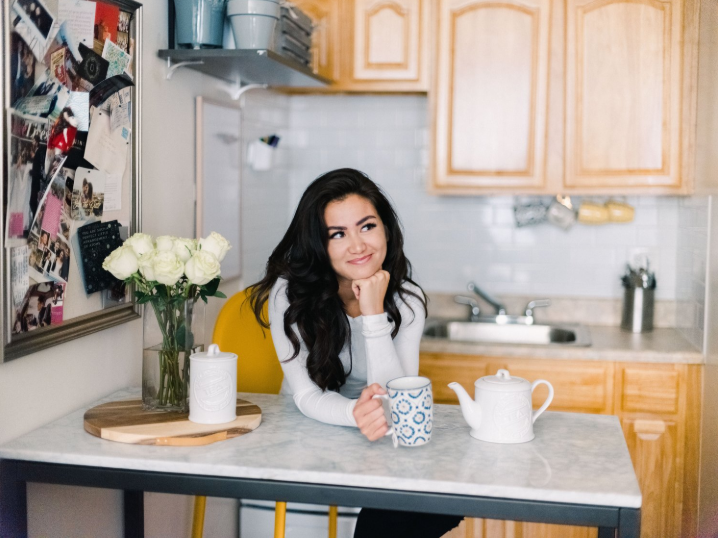 There's nothing more exciting than your first apartment! If you're currently on the hunt for your new pad, our storage unit experts have some great recommendations in the Thousand Oaks area. Near our local university, Cal Lutheran, you'll find several apartment complexes including Sofi Thousand Oaks and Eaves Thousand Oaks.  If you've already found the perfect place, it's time to get organized and prepare to move in. Our team here at the Hollywood Storage Center has some tips for furnishing and organizing your first apartment.
Bedroom
You're going to need a bed frame and mattress so you have a place to sleep. Make it cozy by adding pillows, soft bed sheets, and a comforter to your shopping list too! Considering first apartments are typically tight on space, select a bed frame that elevates your bed high enough for you to have ample room for storage underneath. Then, pick up some under-bed tubs and bags to maximize the storage space and keep organized. What else might you pick up?
Hangers
Bedside lamp
Drawers, whether it be a dresser or a couple of nightstands
If space for a dresser is at a premium, another option is to purchase a small set of closet drawers that can be stashed out of site. Don't forget to measure your closet before you order to avoid unwanted returns.
Cleaning Supplies
Deep cleaning your new place first thing will help make sure you get to all those corner spots that may have been previously overlooked by the former tenants. You might actually be shocked with your new desire to keep everything tidy when you have your own place! We recommend purchasing:
A vacuum
A Swiffer
Cleaning wipes
Multi-purpose cleaning spray
Paper towels
Dishwashing soap
Sponges
Trash bags
If cabinet space is sparse, take advantage of vertical space for ideal organization. One option for storing cleaning supplies is racks that hang behind your laundry or bathroom door. Check out the Container Store for great options!
Bathroom
Towels, toiletries and toilet paper! These three Ts are total necessities. Stash the TP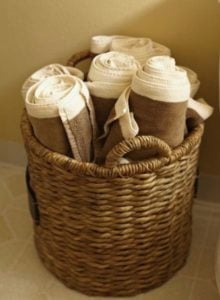 and toiletries in your bathroom vanity, and consider a cute basket for storing space-consuming items like bath towels. Check out Amazon for tons of great options!
You'll also want to stock your bathroom with a small first aid kit and basic medications. Items such as a heating pad, thermometer and icepacks are also handy to keep around.
Laundry
You're going to need a place to throw dirty clothes and you're going to need supplies to clean them. Add a hamper and/or laundry basket, laundry detergent and fabric softener to your list! Consider whether your first apartment comes with a washer and dryer, or if you'll have to hit the laundromat, to determine if you should buy the industrial size detergent or the portable packs. Either way, an iron and low-profile ironing board will definitely come in handy.
Living Space
Whether you love binge watching the latest Netflix series, reading a great book or just
plain lounging around, you're going to want a comfy place to chill. Head to the furniture store or hop online to find that perfect couch or love seat, and maybe pick up a cute coffee table to complete the look. Your living space may be lacking overhead lights – many apartments do. If this is the case, you'll need to purchase table or floor lamps, and maybe some string lights for an aesthetic touch. If you're strapped for cash, look into Craigslist or Facebook Marketplace for some used treasures.
Kitchenware
Take-out every night might seem like the easiest option for those first few days of settling in. We mean, who's going to say no to pizza? But, at some point you're going to want to use your new kitchen to whip up a warm meal. To start, stock your kitchen with pots and pans and of course the essentials for actually eating: dishes, glasses, and silverware. For cooking we recommend having:
A cutting board
Large knife
Spatula
Plastic stirring spoons
A can opener
A colander
A mixing bowl
Measuring cups and spoons
Pot holders
If you have space, consider buying a microwave and/or an Instapot to help with quick and convenient cooking. You'll also want to pick up some food storage containers, such as Tupperware, to ensure no leftovers go to waste.
Now you're prepared to move in and get organized. Soon, you'll be ready to call your best buds over and host your first hang out in your apartment!
Like most of us, you've probably collected quite a few keepsakes from your youth that you don't want to part with, but just won't fit in your new abode. If this is the case, our storage unit experts are here to help. At Hollywood Storage Center we have units that start as small as 5×5 with the Lowest Price-Guaranteed in the area! We have a huge variety of boxes and packing supplies, and we rent Penske Trucks in case your new items won't fit in your car for the move. And, for your convenience, we're available every day of the week from 8:30 a.m. to 6 p.m.
Happy adulting!