5 Spots to Clean – From Your Thousand Oaks Storage Clean Team
Published On: January 20, 2021
Vacuuming, dusting, and cleaning the kitchen and bathrooms are fundamentals! But there's more to a clean home than that. If you want to take cleaning up a notch, The Clean Team™ at our Thousand Oaks storage facility suggests these five spots could probably use some attention. Trust us; you'll be happy you did it!

Washing Machine
It seems as though a washing machine might be self-cleaning, but we only wish that was true! This appliance is actually a breeding ground for mildew and mold, and over time a less than pristine machine will dull your clothes and clog the mechanisms. To clean it right, you'll need white vinegar, baking soda, hydrogen peroxide, a rag, and an old toothbrush. Gather your tools and follow these detailed directions.
Shower Curtains
You know what's more fun than cleaning shower curtains? Replacing them! They're not so expensive that the "out with the old and in with the new" approach isn't possible every so often. But, if you can't bear to part with your favorite curtain, here's our suggestion. Remove the curtain rings and wash them in the dishwasher. Then toss the curtain and liner in the washing machine with a couple of white towels (to provide extra scrubbing power). Use your regular detergent, plus a ½ cup of backing soda and wash on hot at its highest level. In the rinse cycle, add ½ cup of distilled white vinegar. Then hang to dry.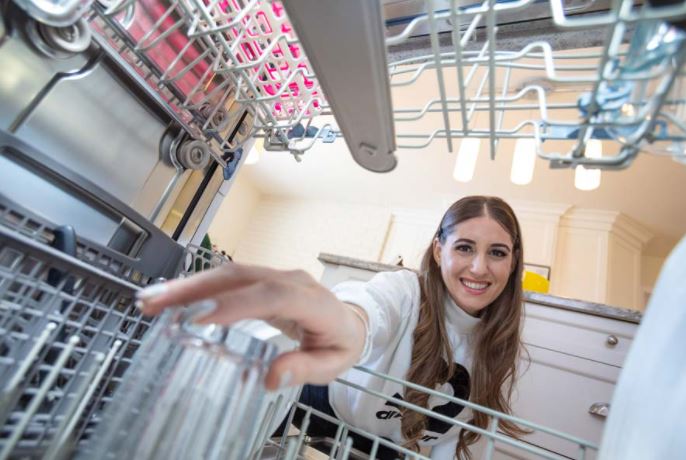 Dishwasher
Similar to your washing machine for your clothes, if your dishwasher isn't clean, your dishes won't sparkle like you want them to either. An unkempt dishwasher will also emit an unpleasant odor and who wants that in the kitchen! Good Housekeeping has provided a step-by-step guide to cleaning your dishwasher the right way on a daily, weekly, and monthly basis.
Garbage Disposal
The garbage disposal is another culprit of foul smells, but the good news is, keeping it clean and fresh is pretty darn easy. We suggest using an abrasive soapy sponge and rinsing it often until you see no more debris. First concentrate on the sink baffle, which is the rubbery part of the drain that leads to the grinding chamber. Then, reach inside (may be best to disable the electrical power) and use the abrasive sponge to clean the top of the grinding chamber. Finally, to keep the blades clean, pour ½ cup baking soda into the disposal, then slowly pour in ½ cup vinegar. Cover the drain and let the combo do their work. After a few minutes, flush the disposal with hot water while running the disposal.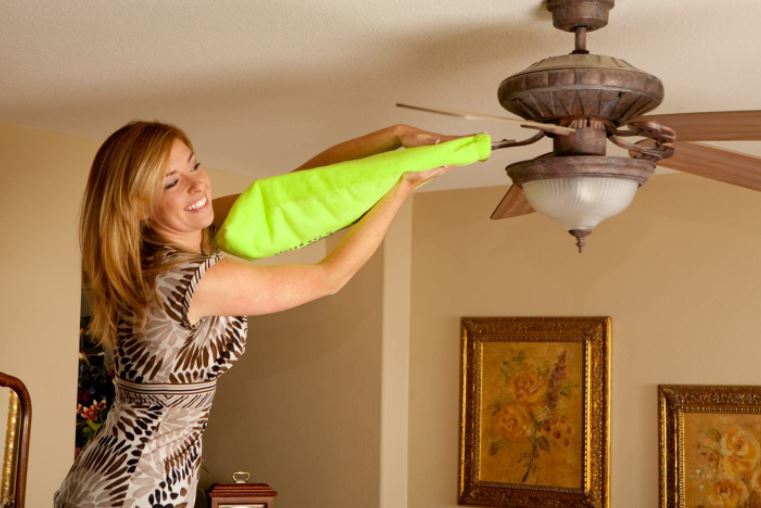 Ceiling Fans
Our friends in Agoura Hills, Camarillo, Westlake Village, and the other communities surrounding Hollywood Storage Center love using their ceiling fans to provide a light breeze during our slightly warmer days. But, when it comes to cleaning, ceiling fans are easy to forget. Then one afternoon, you'll be taking a little rest on the couch or bed, look up, and ewww! Don't fret, just grab an old pillowcase and a ladder, and get started. Climb up (be careful!) and use the pillowcase to wipe down the canopy, down rod, motor housing, and light fixture. Then, one by one, slide the pillowcase over the fan blades, and gently press against the blade as you pull the pillowcase off.
In addition to these five hot spots, here's a list of rarely touched spots that, if cleaned, will prepare you for any white-glove test:
Behind the toilet
Bottom of shower door
Ledges above doors
Top of refrigerator
Kitchen table legs
Lamp shades
Windowsills
Tops of wall frames
Tops of small kitchen appliances (toaster oven, microwave, etc.)
Behind the couch
Inside trash cans…we know, this isn't our fave either!
Pantry floor
Organizing your home can make getting it clean, and keeping it clean, much less of a chore. If you find there's simply not room to store everything neatly, we can offer a Place for the Things You Love here at our Storage in Thousand Oaks. With 50+ unit sizes, we've got you covered, whether you need a lot or a little storage room. Happy Cleaning!