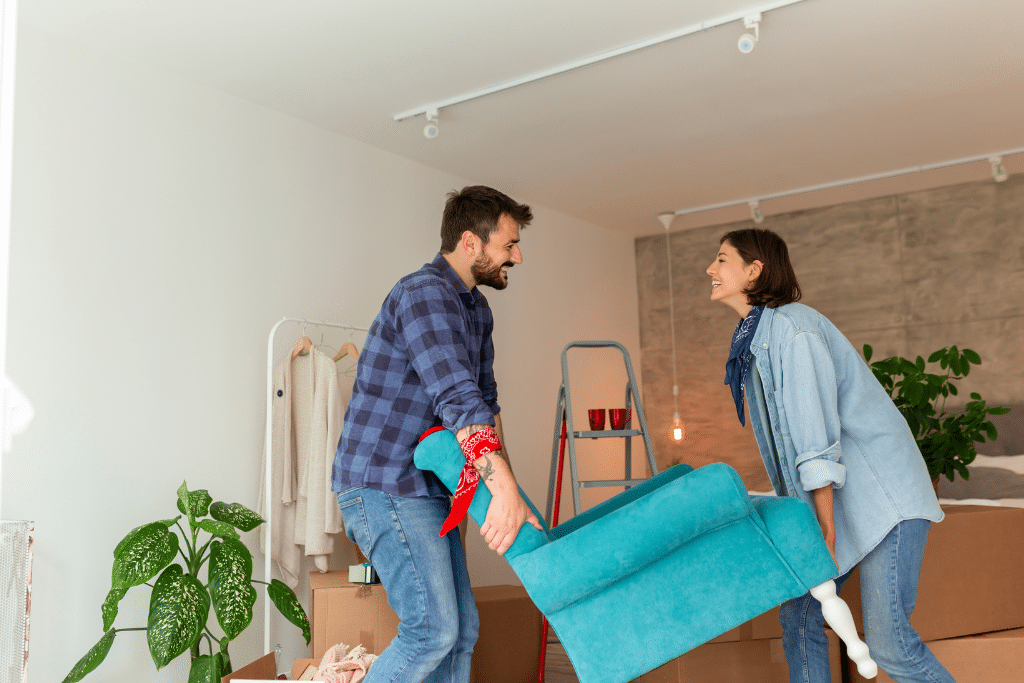 Tips for Storing Furniture in Newbury Park Storage Units
Published On: August 2, 2023
Do you feel like your furniture is taking over every nook and cranny in your home? To reclaim your living space, you've made the wise decision to rent self-storage. But now, as you prepare to move into your unit, you find yourself asking, what's the best way to pack and organize your furniture inside? The friendly experts at Newbury Park storage units are here to help. Our team has a treasure-trove of tips and tricks to inspire you and put your mind at ease.
So, let's explore the secrets to packing and arranging your furniture like a pro.

It All Starts with the Right Size Storage Unit
Choosing the right unit size is important. Begin by making a list of the items you plan to store. Then, grab a measuring tape and roughly note the dimensions of each item. This will give you an idea of the storage unit size you need. If you're short of time or still feel unsure, reach out to our friendly storage team or try the handy size estimator tool on our website.
Already booked a unit at Hollywood Storage Center of Thousand Oaks? We appreciate it! Just a reminder: you have complete flexibility to adjust the size of your unit right up until the day of your move.
When to Consider Climate-Controlled Storage
While Newbury Park doesn't typically experience drastic weather changes, many of our guests prefer to have extra peace of mind, especially when preserving furniture that has high sentimental or financial worth. Temperature fluctuations over a long period of time can make materials like plastic, wood, metal, and paper warp, crack or lose their color. In a climate-controlled storage unit, temperatures stay constant, slowing down the aging process. Need more info? Give our storage experts a call or visit our website.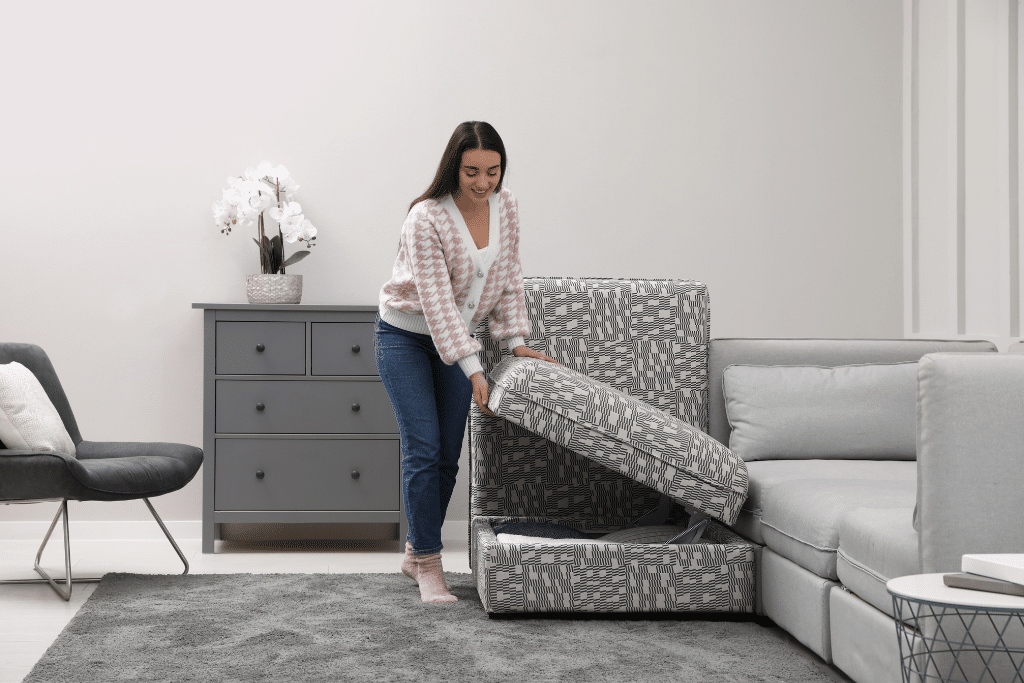 Prepping Your Furniture for Storage
Prepping your furniture before moving it to a storage unit is helpful for protecting it, maximizing your storage space, and making it easier to retrieve and set up in the future. If you clean, disassemble and wrap some pieces of furniture, you can safeguard them for moving, storing and reusing them later.
Clean & Fresh
Cleaning your furniture before storing it is a smart move. It helps maintain quality, prevents potential damage, and keeps it smelling fresh. Use a mild soap and water solution for hard surfaces and consider fabric cleaner or professional cleaning for upholstery. These practices keep your furniture looking great, plus lasting longer and maintaining value.
Simply Smaller
To save space and prevent damage, consider disassembling parts that are easily separated, like removable table legs, detachable bed frames and pull-apart sectional sofas. Remember to keep all small hardware pieces, such as screws, bolts, and cabinet keys, in a bag and attach it to the corresponding furniture. This way, you'll easily find all the parts you need when it's time to use the piece again.
Protection Plus
Wrapping or covering your furniture helps prevent damage during transit and can keep it fresher while in storage. For example, if you have leather furniture, give it some extra TLC by applying a leather conditioner before wrapping. This helps maintain the leather's quality and prevents it from drying out. For other items, breathable materials like cloth covers or old bed sheets can shield your wood and upholstered pieces from dust while allowing for proper airflow.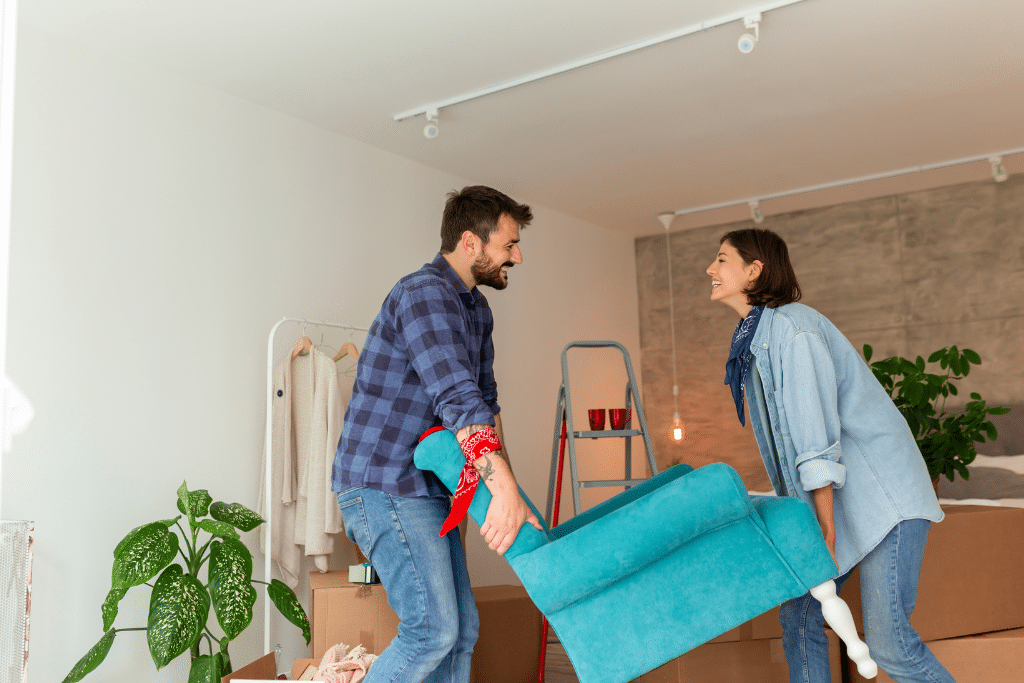 How do you organize furniture in a storage unit?
When storing furniture, strategic arrangement has its benefits both for saving space and retrieving items later.
Place larger and heavier items below, and lighter ones above.
Avoid stacking too high on top of furniture.
To make use of your vertical space, place bigger furniture along the back wall and add a couple of tall shelving units along the sides or in the middle. Check with our helpful storage consultants about renting shelves that we can place into the unit for you!
Place smaller items like lamps towards the front so you can retrieve them quickly without moving larger pieces.
When storing long-term, position furniture as it would be used at home. For example, storing couches horizontally can prevent joint stress.
So, there you have it!  When the furniture (and maybe a few other things you love) are safely stored, you'll be thrilled with the newfound space in your home.
If you're still searching for the perfect storage facility, consider the Newbury Park Storage units at Hollywood Storage Center. We offer new renters the first month's rent free. Plus, if you're moving your furniture from a city within the Conejo Valley, you can use our free truck and driver service. Our office is open every day from 8:30 am to 6 pm, so give our friendly storage consultants a call or stop by.
We'll simplify your storage rental, so you can focus on what comes next!